Top 6 Children is exclusive to esf Courchevel 1850 with 6 children maximum per instructor!


It is a full day group lesson (morning + afternoon) with a maximum of 6 children which allows the instructor to give each child all the attention they need.
The esf of Courchevel 1850 guarantees the high technical level and the teaching qualities of the instructors who supervise the Top 6.
Top 6 Children only takes place during school holidays and is intended for children from 2nd* level to Gold star.
The lessons are organised by age and level for a better quality of teaching.

Children can have lunch with the group (without pre-booking) and under the supervision of the instructor (just give your child a twenty euro pocket money in the morning and let the instructor know).
For those who don't have the 1st* level, you can find the Drago Top 6 in the Children's Village tab.
Our group lessons are open from 4 registered children.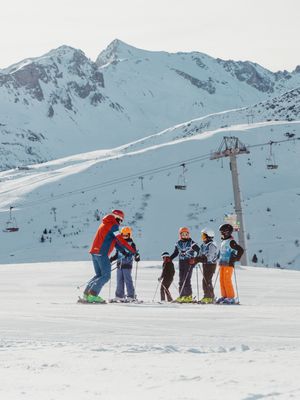 Top 6 Children
From 6 to 12 years old - From 2nd* level to Gold star
Only during school holidays
Only full day lessons : Reception from 9.15am, ski lesson from 9.30am - 11.45am + from 2pm - 4.30pm
Course of 6 or 7 consecutive days
Medals included from 2nd star to gold star (medals linked to the passage of races are not included)
From Sunday or Monday
Maximum 6 children per instructor
Skipass not included
Free Saturday: For every week child package purchased, this child is invited to the Saturday lesson (subject to registration) by purchasing the 7 day package or by email registration.
Meeting point
On the Croisette snow front in front of the banner corresponding to the child's level.
Meal
The instructor can supervise the lunch break (give your child about 20 euros and book on site with the instructor).
Attention - Health Pass
For children from 12 years old, please respect the health rules imposed by the government (Health Pass)
Prices

Ski lessons (full day lessons only)





9.30am - 4.30pm













6 days
827 €
7 days
827 €